Patient Testimonials
Review of Dr. Benjamin Kamel

Dr. Benjamin Kamel was my left foot surgeon. Why would I recommend him, let me mention a few things that nowadays doctors are oblivious to be with their patients: Kind, caring, Great bedside manner, Courteous and Patient. Well Dr. Kamel was all that and much more, He was very honest since day one and with his care I have been progressing and pretty soon I will be ready to dance again. Thank you Dr.Kamel as well as your great staff for making my visits to your office pleasant.
-Zoraida H.
Review of Dr. Benjamin Kamel

Dr. Kamel is one of the nicest doctors I have ever met. He spent the time to listen to my concerns and addressed every single one. He is one of the newer doctors at Garey Orthopedics, but he is clearly knowledgable, experienced, and has amazing bedside manners.
Beyond the great care from the doctor, I also felt that the staff was kind and organized. I did not have to wait a long time from when I was checked-in, placed in the room, and seen by the doctor. The are now in the new building so the facility is nice and clean, they are also following all of the COVID social distancing precautions, I definitely felt safe. Love this place!
-L H.
Review of Dr. Corrales

Very well! He operated on my right hip and did an excellent job. I feel so much better!
-Lynn M.
Review of Dr. Lilley

Pleasant bedside manner, very thorough and extremely skilled surgeon. Dr. James Smilley explained my 12-year-olds procedure in detail & was glad to answer questions.
-Torres in Covina, CA.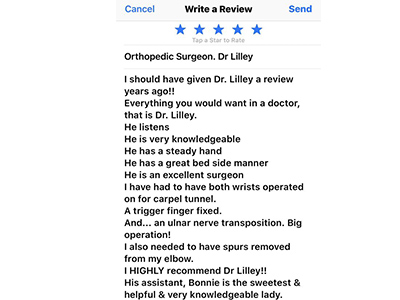 Review of Dr. Patel

Garey Orthopefic and Dr. Patel is the BEST! A wonderful doctor is critical and we have that from Dr. Patel in spades. To make things better you have a amazingly organized staff who are welcoming and efficient. Wait times are minimal. Thanks to everyone at Garey Orthopedic.
-Judith Gayou
Review of Dr. Corrales

Had partial knee replacement - and have referred a couple of my Softball teammates for knee replacements as well. Back playing softball (full speed) in about 1yr of recovery. I wish I had done it sooner. No regrets
-Steven Smith
Review of Dr. Corrales

Dr. Corrales performed a hip replacement for me in January, 2018. From my first appointment with him, through the scheduling process, the surgery and after care, I was very impressed. Everyone I came into contact with was personable, helpful and professional. I had no worries before the surgery. I had all the information I needed, and a reassurance from Dr. Corrales that all would go well. And I am pleased to report things went even better than I had expected.
-Self-verified patient
Review of Dr. Corrales

I had a left hip replacement and was up and walking almost immediately after the surgery. I experienced very little pain and recovered quickly. Dr. Corrales is an excellent doctor and I would highly recommend him.
-Self-verified patient
Review of Dr. Corrales

Dr. Luis Corrales was fantastic in his intial diagnosis of my hip. His pleasant manner and knowledge of the procedure from surgery to post OP was beyond approach. I would highly recommend Dr. Corrales to my family, friends and the readers of this post.
-Self-verified patient
Review of Dr. Corrales

Dr. Luis Corrales replaced my right knee five months ago and I have nothing but good things to say about him. Surgery, recovery and rehab went well and I was in very little pain afterwards. In the hospital, I was able to walk the day of surgery and I learned how to climb and descend stairs the day after surgery. Dr. Corrales is an excellent surgeon and he and his staff have been very professional and supportive both pre and post op, whether it's answering questions, refilling medication, or a number of other things. Following the replacement of just my right knee, I am no longer limping, I have become more physically active and I have lost more than 30 pounds. My ideal weight is now within reach and after my left knee replacement in two months, I look forward to a more active lifestyle in which I will not avoid places like Disneyland and the LA County Fair, due to my limited walking ability. I highly recommend Dr. Corrales for Orthopedic surgery and feel you can't go wrong with him.
-Self-verified patient
Review of Dr. Corrales

Outstanding doctor, did a wonderful job on my knee replacement. Works perfectly.
-Self-verified patient
Review of Dr. Corrales

he has done both my hips and I've done great. I would highly recommended.
-Self-verified patient
Review of Dr. Corrales

Excellence from start to finish! Way beyond his colleagues in surgical technology, techniques and facilities. Words cannot adequately express my appreciation for my changed life after total knee replacement. Thank you.
-Self-verified patient
Review of Dr. Corrales

Responsive, accurate diagnostician. Uses latest technology.
-Self-verified patient
Review of Dr. Corrales

Dr Corrales is an incredible surgeon. I recovered so quickly from total knee replacement. My pain was managed so well that I was able to walk and do physical therapy with little to no pain. I feel so grateful that I had Dr Corrales as my surgeon! His staff was awesome as well.
-Self-verified patient
Review of Dr. Corrales

Wednesday April 24, 2019 Dr. Corrales replaced my left knee February 18, 2019. At 77 years of age I was apprehensive...scared…etc...etc. Prior to my surgery I was in extreme pain and bone/bone. I couldn't endure the pain anymore. I heard stories about how painful knee surgery is afterwards but I'm happy to say I wasn't in pain. Surgery went perfectly well! I was up and walking the evening of my surgery without pain. I didn't need to take any pain medications prescribed to me, I had no pain! I shocked the physical therapist when she came to my door the first time...I was walking without a cane or a walker. Two months post surgery I'm doing very well. If I Knew it was going to be this easy I would've done it sooner! I cannot say enough good things about Dr. Corrales and his staff. I highly recommend Dr. Corrales, he is the BEST!!! A. Payne (not in pain anymore!) Ontario, California - April 2019
- Ontario, California
Review of Dr. Corrales

Dr. Corrales explained the details of the procedure very well, and I was happy, confident and ready to have the surgery. I had the total knee surgery on November 14, 2018 at Casa Colina I can go walking without problems now, and happy that I have no pain as I go walking at the stores. He is excellent orthopedic surgeon, very caring to patients, and very good bedside manners.
-Self-verified patient
Review of Dr. Corrales

all around excellent
-Self-verified patient
Review of Dr. Corrales

I had a total left hip replacement in June 2018, and simply put Dr. Corrales did a great job. I met with Dr. Corrales about 8 months before my eventual surgery for an initial evaluation and I was shocked when I learned that I needed a new hip. Although my hip hurt like Hell, as it was basically bone-on-bone, I was in denial and I naively sought to avoid surgery. Dr. Corrales patiently explained my options and he politely told me that I would be back when the pain got to be too much. Well, 6 months later I was back. After again answering all my questions, we scheduled the procedure. His team at Casa Colina was top notch, and their skill and care level were sky-high. My total hip replacement procedure went great and I was up and walking (with a walker) that same day. It has been 10 months since my total hip procedure and my only regret is that I did not do it earlier, as I could have avoided 6+ months of unnecessary pain. In short, Dr. Corrales and his team at Casa Colina were superb.
-Self-verified patient
Review of Dr. Corrales

I had hip replacement surgery January 31, 2018. It was an outstanding experience. Dr. Dr. Corrales did my hip replacement surgery on January 31, 2018 at the great Casa Dr. Corrales did my hip replacement surgery on January 31, 2018 at the great Casa ColinaHospital and all my rehab was at Casa Colina. I am now not restricted from any activity I desire. I workout with our teenage grandson's baseball team and keep up with our 3 year old grandson. I work out at the gym doing upper body and leg
-Self-verified patient
Review of Dr. Corrales

I was not able to walk without the constant pain on my knee. I contacted Dr. Corrales, and informed him that I was ready for my surgery. My surgery was schedule for June 6, 2018. I was out of the surgery at 10:30 am and by 4:00 pm, I was able to walk back and forth in the hallways. My knee was able to bend at 90 degrees. In addition, I was able to go up and down stairs with little assistance. When I was sent home, I had no trouble attending to myself. I have not felt this great in a long time.
-Self-verified patient
Review of Dr. Corrales

Advanced in all areas of surgery, patient contact throughout the whole process was outstanding.
-Self-verified patient
Review of Dr. Corrales

On January 31, 2018 I had a total hip replacement by Dr. Corrales at Casa Colina Hospital in Pomona, CA. The total experience was and is first class. The pre-op meetings were great and the day of the surgery went well. Post op check ups by email have been a real assistance as have the visits to with Dr. Corrales. My wife is my "coach" and we highly recommend Dr. Corrales for any joint replacement consideration. Donald A. Driftmier
-Donald Driftmier in West Covina, CA
Review of Dr. Corrales

Dr, Corrales is the best ortho surgeon that I have had the pleasure of dealing with. I have had both hips replaced by different ortho doctors (Kaiser). One was a success, but the second was not.. This last April, Dr. Corrales replaced my left knee. Best replacement yet! I'm sure he'll be doing my right knee soon.
-Karen Jones in Rancho Cucamonga
Review of Dr. Corrales

Dr. Corrales was a life saver for me. I had my hip replacement in May 2017.. I had been limping severely with ongoing pain. Friends, family and co-workers cannot believe that I am walking without a limp with no signs of having had surgery 6 months ago. Dr. Corrales and his surgical team, office staff, and his assistant Gina are courteous and extremely professional. He takes the time to explain the whole process including recovery. I am extremely satisfied with the whole experience.
-Susan O. in Rancho Cucamonga
Review of Dr. Corrales

Having recently had a total hip replacement with Dr. Corrales I can only praise the program that accompanied my journey: required educational class, preparations to be made, equipment needed at home, what to expect day of surgery and upon release. With the Joint Coach I received daily emails asking how I was doing, pain level and advice to help me through the day. I could also ask questions. Everyone has been impressed with my progress and I give all the credit to Dr. Corrales/Casa Colina.
-S Hook in San Dimas, CA
Review of Dr. Corrales

My wife and I both received a right hip replacement from Dr. Corrales. We were well prepared for the surgery and everything went as we were told it would go.. I'm sure that Dr. Corrales does other types of surgery as well but we heard that he has done many hip replacements. The results for both of us were excellent. Follow his instructions, and you will be relieved of the pain that you had before the surgery. You will be very happy with Dr. Corrales and his team.
-Chuck Bocan in Rancho Cucamonga, CA
Review of Dr. Corrales

Dr Corrales replaced my knees one in April & the other in July. My knees were in constant pain when walking prior to surgery. I woke up pain free and was walking the same day. Dr Corrales employs the most up to date techniques applicable to your unique situation. He explains everything that will be done beforehand. I have followed all instructions and have had no problems. In addition, the staff has been very helpful and easily accessable for all questions and concerns. Thank you Dr Corrales
-Janice in Pomona, CA
Review of Dr. Corrales

Dr Corrales did a fantastic job. I had a partial knee replacement. Within 48 hours my knee felt like new. Dr Corrales explained the procedure and after the surgery he checked in on me explained what he had done. Great bedside manner.
-Timi Hayward in Upland, CA
Review of Dr. Corrales

Thanks to the expertise of Dr. Corrales, my recent Mako robotic-assisted surgery for a partial knee replacement at Casa Colina Surgery Center was successful. It is a pleasure to be able to walk again without constant knee pain. After surgery, I had very minimal knee pain, and recovery has been progressing quickly. Be sure to attend one of his informative joint replacement seminars for thorough information. Thanks again, Dr. Corrales!
-Eleanor Pontious in Upland, CA
Review of Dr. Corrales

Dr. Corrales helped me with his diagnosis of Metalosis in my hips from a bi-lateral hip replacement I had done years ago at Kaiser. I had been in pain for 7 years until his diagnosis. He has done hip revisions on both my hips and now I feel great again. I had seen other doctor's over the years but none of them cared enough to think outside the box or tried to figure out what the problem was. I would totally recomend Dr. Corrales for your orthapedic needs.
-Dan C. in Fontana, CA
Review of Dr. Corrales

I had a good experience with this doctor. Knee surgery, (arthoscopic for miniscus tear) was performed in Dec. 2016 after month of physical therapy without significant improvement. I had the surgery outpatient at Casa Colina. Improvement was significant the day after surgery. I was able to enjoy the Christmas holiday and return to work right on schedule after the break. Dr. Corrales is very particular about his patient's care and is attentive to every detail. I would highly recommend him.
-Gloria Stegman in Chino Hills, CA
Review of Dr. Corrales

Other patient reviews were influential in choosing Dr. Corrales for my hip replacement surgery and my own experience with him proved them right. I went from excruciating hip pain and wheelchair dependence to absolutely no pain, or necessary medication for it, from the day of the surgery to the last follow-up visit a year later. Freedom is sweet, Thank you Dr. Corrales! Surgery: Jan. 2016 -Jan. 2017
-Marianne P. in Upland, CA
Review of Dr. Corrales

My experience with Dr. Corrales and his staff were always accommodating and met my every need. Dr. Corrales replaced my knee which is now functioning perfectly and I am pain free.
-Maggi S in Ontario, CA
Review of Dr. Corrales

I learned of Dr Corrales from a news paper article and attended a meeting at Casa Colina. I was so impressed that I made a consultation appointment. My experience from that meeting, thru the surgery, and recovery has been great. Dr Corrales walked me thru each step, and made me comfortable for the entire procedure. He gave me back the pain free use of my legs.
-C D Christensen in Glendora, CA
Review of Dr. Corrales

I highly recommend Dr. Luis Corrales! I had a total knee replacement my experience of recovery was great! There is no stitches to be removed there's a waterproof bandage you can shower. Used a walker for a couple of days after that no cane no walker. It's important that you do physical therapy. My healing process and movement I have done very well! My recovery has been a good one for me ! Thank you! Dr corrales really know what he is doing! And does it well!
-Jeri Torres in Glendora Ca
Review of Dr. Corrales

Dr. Corrales was very easy to talk with and was extremely patient when explaining each and every option available regarding total hip replacement surgery. He answered all my questions and made sure that I understood everything. He put me at ease about the surgery and my recovery. He did an excellent job and I feel better then I have in years. Thank you Dr. Corrales and staff :)
-Peggy F in Rancho Cucamonga, CA
Review of Dr. Corrales

With out any reservations, I recommend Dr. Corrales. He and his staff were 5-Star with replacing my hip. From the very first visit to follow-ups I felt well taken care of and understood every step in the process. Questions I had in between visits were handle quickly and professionally. My recovery was faster than expected and I attribute that to the great care, knowledge and abilities of Dr. Corrales and his team.
-Steve R. in Rancho Cucamonga, CA
Review of Dr. Corrales

Dr. Corrals is wonderful, the staff is wonderful, my whole experience of hip replacement surgery, on a scale of 1 to 10 Dr. Corrals the surgical team, and the after care get 1000. Dwight woody
-Dwight woody in Pomona ca
Review of Dr. Corrales

Broke every bone in my ankle and Dr. Corrales repaired it completely without pain. He kept me informed as to what was required in great detail. If anything he's overly cautious in making sure enough time goes by to allow complete healing. Highly recommend him for orthopedic surgery.
-A. Scriven in Claremont, CA
Review of Dr. Corrales

On 06/29/16 Dr. Corrales performed a Mako robotic arm - partial knee replacement. I am beyond pleased with the results. Not only is Dr. Corrales a great surgeon, his bedside manner left me at ease from start to finish. In all my visits he is never rushed as is the case with many busy professionals, he takes his time to answer questions and his support staff is great. Here am I 3 weeks out from surgery and no cane is needed, and my scar is healing perfectly. Thank you Dr. Corrales!!
-Carole Gomez in Covina, CA
Review of Dr. Corrales

Very professional , kind and caring I was extremely happy witt Dr. Corrales, he listened to all my concerns I had I would highly recommended him. Thank You Dr
-Alice Saucedo in Fontana, CA
Review of Dr. Lilley

Pleasant bedside manner, very thorough and extremely skilled surgeon. Dr. James Smilley explained my 12-year-olds procedure in detail & was glad to answer questions.
-Torres in Covina, CA
Review of Dr. Corrales

He has been very kind and takent he time needed for any of my concerns
-Toni Kay in Bellflower CA
Review of Dr. Corrales

I met Dr Corrales and just knew I found the perfect surgeon for me. His serious focus and expectations plus my commitment to work hard and earn my new knee, made us a perfect combination. Valery, his coordinator, was a wiz. I had my surgery, thanks to this gifted surgeon and his super crew, I took my rehab seriously and made steady progress. I am thrilled my new mobility, lower blood pressure and 15lbs is off. My 2015 L.A.C.model knee is a joy. Thank you Dr. C
-Lana G Tripathi in Upland, CA
Review of Dr. Corrales

Dr. Corrales was very understanding of my needs and any questions that I had about my surgery.
-Ellen Collisson in Upland, CA
Review of Dr. Corrales

Dr. Corrales performed a total hip surgery on my right hip last June and I couldn't be more pleased with the results. I was walking without a cane or walker within two weeks of the surgery. The surgery and recovery went smoothly and now I'm pain free in that hip. I will be needing a replacement of my left hip soon and I wouldn't have anyone else but Dr. Corrales perform the surgery! Also, his office assistant, Albert, was so very kind and supportive, always helping me with any concerns.
-Mary F. in Corona, CA
Review of Dr. Corrales

Knowledgeable and well informed doctor. Caring. Listens to patient's concerns and addresses them well. He was well prepared for unforeseen medical requirements during my surgery. I think Dr. Corrales' staff is particularly strong and very caring. They put me at ease during what I thought would be a very scary experience. They were supportive during my recovery, and answered promptly any concerns I had.
-Beatriz in Claremont, CA
Review of Dr. Corrales

My mother told me about Dr. Corrales after he did her full knee replacement a couple of years ago. She had nothing but phrase for him. I have had a bad knee since about 1965 from a high school track accident and over the years I have damaged it several times. I set up an appointment with him. He answered ALL of my questions. When I left his office, I knew I had the right guy. The preparation by Dr. Corrales and his staff was incredible. I even heeled faster then expected.
-Bruce Talbot in Claremont, CA
Review of Dr. Corrales

Ms. Knuth Dr. Corrales explained to me & my husband the out come of the x-ray taken on my right shoulder. He drew a picture of the shoulder & emphasized the areas of concern causing my shoulder pain. He explained the pain would only get worst over time. There was only one procedure that would take the pain away, which had limitations (lifting only up to 15 lbs, 85% range of motion returned). The procedure was reverse shoulder replacement. 7/27-12/24/15 recovery/w PT @ Casa Colina, Pomona
-Ms . Knuth in Rancho Cucamonga, CA
Review of Dr. Corrales

I had a wonderful experience with Dr. Corrales on both my surgeries. I first had a shoulder replacement then a total hip replacement and with both surgeries Dr. Corrales was very through in explaining both procedures to me. If my family or I had any questions he and his team were there to answer them. I could not have asked for a better surgeon/doctor for my procedures.
-Sandra Mammen in Fontana, CA
Review of Dr. Corrales

Struggled with hip pain for 8 years, no other doctor took the time to listen to my symptoms and offer a helpful solution. Got me the help I needed and will be getting a much need surgery at the beginning of next year! Thank you so much!
-Emily in San Jose, CA
Review of Dr. Corrales

Dr Corrales replaced my left hip, this was the first operation I have ever had and with his experience he was very confident and reassuring, everything went well and if I ever need my right replaced (I have arthritis) I will absolutely call Dr. Corrales again! - John Towle
-John Towle in Rancho Cucamonga, CA
Review of Dr. Corrales

A very great experience all around, a wonderful and skilled physician and a great staff working behind him. I highly recommend Dr. Corrales.
-Adam London in Upland, CA
Review of Dr. Corrales

A physician's expertise is my prime consideration when contemplating surgery. Dr. Corrales met my highest expectations. During subsequent physical therapy, my therapist noted that his post-surgery patients did exceptionally well.
-B. R. Doody in Upland, CA
Review of Dr. Corrales

I would definitely recommend Dr Corrales. . I had a hip replacement, We talked about it. He explained the procedure. No pressure to do the procedure. Kept reminding me that I would know when the time was right for me. I talked to many people and Dr Corrales name kept coming up. No derogatory comments from people I knew. I am so glad I had this done with a doctor like Dr Corrales. I would be glad to talk to anyone about my experience. ++++++
-David Uttz in Upland, CA
Review of Dr. Corrales

Dr. Corrales is the most caring, considerate Dr. I know. He spends time with me and answers all my questions. He did my rotator cuff surgery a year ago and in January he is doing a knee replacement. I trust him and feel very good about his doing my surgery.
-Sandy McBride in Rancho Cucamonga, CA
Review of Dr. Corrales

Dr. Corrales did a hip replacement on me. The hip is great, no problems with it. My wife needs a knee replacement and she too will go to Dr. Corrales. As well as being a terrific surgeon he has a great staff of people who keep everything moving and make sure the patients are well taken care of.
-Calvin Wong in Upland, CA
Review of Dr. Corrales

Had knee replacement surgery on my left knee, 5 Years ago, this operation was n Casa Grande, AZ 85122, and the surgery and rehabilation was good and I was very pleased with the results. On August 31, 2015, I had the good fortune to have right knee replaced by Dr. Corrales and his staff. I have never been as impressed with a Doctor, Staff, Hospital and Therepy group as DR. Corralles has with him. I have had several major operations, but none as good, with almost immediate recovery. he's a 10.
-Donald R. Martin in Loma Linda, CA
Review of Dr. Corrales

Dr. magical
Dr. magical (Luis Corrales)He is one heck of a surgeon I could not walk I am walking now it's been four months and I can bend over and stand up run real slow cook for myself without getting tired he did wonders for me my name is Ralph Ceballos thank you Dr. Corrales thank you for everything you did to change my life and my God bless you

-Self-verified patient
Review of Dr. Corrales

Partial Knee replacement
Had my partial knee replacement about 1yr ago. Wish I had done it sooner. I am back playing softball with no regrets. I have a couple of my teammates getting theirs done or about to have them done. No pain from the start and continues to get stronger with time. Enjoyed Luis's bed side manner over the other doctors I was considering. You won't be disappointed with his services.

-Self-verified patient
Review of Dr. Corrales

The Best Thing To Happen To My Hip
Fantastic doctor, with his pleasant demeanor and knowledge from initial diagnosis thru surgery and post OP. I'll forever be grateful in his effort to relieve my pain. I would highly recommend him to all !

-Self-verified patient
Review of Dr. Corrales

Total knee replacement
From start to finish I was and still am completely satisfied with Dr. Corrales, his staff, and Casa Colina hospital

-Self-verified patient
Review of Dr. Corrales

Life Changed!
Since 2014, I was referred to 2 different surgeons who told me I was too young to get a knee replacement and to wait until I was 60!!! At that time in '14 that was 10 years away. Really? Then I was referred to Dr. Corrales. He agreed I was on the young side but said I still have lots of living to do in my 50's, so why would we wait to make that happen? Wow! Finally, a Dr. who was actually on my side! Who'da thunk it? This practice really has it all going on and all the updated approaches which make it efficient and productive. From the first appointment on, all patients have access to their patient - joint team website called "Joint Coach" which is well-designed with educational videos, the team of doctors/nurses/staff who will be serving you during your journey and much more. Enough words cannot express how successful this makes the entire process. Patients know exactly what will be taking place the whole time. You are never in the dark. That gets an A+++ ! My surgery was at the newly-added Surgical Center at Casa Colina, an absolutely beautiful inside-and-out Spanish style facility. It looks more like a resort than a hospital. The staff there are the best. Excellent customer service the entire time. Very special group of people. Genuinely caring, smiling, sincere staff. Very impressed. And the food is fantastic! Suzi Johnson is the Orthopedic Care Coordinator and is a Godsend. She is the liaison between Dr. Corrales and patient and is a text or email away for questions or concerns and organizes/directs things that need to happen on the patient's behalf. She teaches a 1.5 hour class before your surgery so you are completely informed of what will be happening throughout the entire process. Very nice lady, responds quickly although I know she has to be very busy. She has a very significant role and does a great job at it! Most importantly, the talent, skill, knowledge and accute problem - solving skills of Surgeon Dr. Corrales are well beyond his years. After reading his bio on his website, you can understand how he has earned a phenominal reputation amongst staff and patients and is very highly regarded in the orthopedic world. I feel very fortunate to have been referred to this talented and highly educated surgeon. Today is my first day home from after a total right knee replacement, and I'm walkin' on sunshine. No limping!! No pain!! Already a very different life for me just one day into recovery. The check-up process via the "Joint Coach" website assures that you are well taken care of after you go home too. Sometimes "Thank you" is not really enough, but I hope they know I am deeply grateful to the Dr., his staff and Casa Colina staff for taking phenominal care of me and all the other patients. This is how a business is supposed to be run!! I have already recommended him to several of my friends who need help with joint issues as I know now they will be in perfect hands. My brownie points will soar with them too! Best of luck to all the joint sufferers reading this now. Call Dr. Corrales. You will, no doubt, end up as deeply grateful as I am now, and that's a fact, Jack!

-Self-verified patient
Review of Dr. Corrales

Left Hip Replaced
Dr Corrales did a great job I was up walking in 2 hours. I will be going back to have my right hip done .

-Self-verified patient
Review of Dr. Corrales

Hip replacement surgery
I recently had total hip replacement surgery by Dr. Luis Corrales at Casa Colina Hospital in Pomona, CA. The total experience , pre-op, day of surgery, and post op have been outstanding. Dr. Corrales and his team made the experience a success. His follow up email information is a great tool for communication in addition to personal visits to his office. I recommend Dr. Corrales for any joint replacement consideration Don Driftmier

-Self-verified patient
Review of Dr. Corrales

Great experience.
I had a full hip replacement on my right hip on October 23rd with Dr. Corrales and it has been a great experience. During my first office visit, Dr. Corrales took the time to fully explain in detail my condition and why I needed a full hip replacement. There was no pressure to have it done, he said that when I was ready I would know it. I did some research that made me comfortable that hip replacement was the correct course of action and I scheduled the procedure. It took about two months to get all my medical tests completed, medically cleared, and the procedure scheduled. I have to say that the whole process was absolutely wonderful. I was up and walking a couple of hours post-surgery. And I was home and walking around, without a walker the next day, including climbing stairs. I have experienced no post-surgery pain, ever. In fact, I didn't even need pain medications. My only concern was that I would overwork my hip by doings physical things too soon after surgery. I returned to work part time the following week and full time the third week after surgery. I would highly recommend Dr. Corrales, his staff, and Casa Colina (the hospital). I could go on much longer, touting high well things were handled through the entire process. I can't thank Dr. Corrales enough for allowing me to get back into life without pain.

-Self-verified patient
Review of Dr. Corrales

Best ortho surgeon ever!
Dr. Corrales replaced my left knee in April. Up and walking the next day! Could not ask for better care, from Dr. Corrales and his whole staff. Just the best!

-Self-verified patient
Review of Dr. Corrales

Wonderful Surgeon!
Dr. Corrales performed my hip replacement surgery this past May 2017. I feel great! Dr. Corrales and his whole staff (including surgical team and assistant Gina) are all courteous and professional. Please take a chance if you need orthopedica surgery! You will not be sorry!

-Self-verified patient
Review of Dr. Corrales


excellent doctor very caring listens to me what I have to say had two surgeries from doc Corrales my next surgery will be with him again like I said great doctor plus the staff is great too

- Helen Poffenbarger
Review of Dr. Corrales

Pain Free
Prior to my surgery I was in extreme pain with a bone/nerve on bone/nerve issue. As of the day of surgery my pain was gone and I now have a fully mobile life.

-Self-verified patient
Review of Dr. Corrales

Get that bad hip replaced
My wife and I both received a right hip replacement from Dr. Corrales. We were well prepared for the surgery and everything went as we were told it would go.. I'm sure that Dr. Corrales does other types of surgery as well but we heard that he has done many hip replacements. The results for both of us were excellent. Follow his instructions, and you will be relieved of the pain that you had before the surgery. You will be very happy with Dr. Corrales and his team.

-Self-verified patient
Review of Dr. Corrales

Great doctor!
Dr. Corrales did a partial knee replacement in Nov. of 2016, and I could not have gotten any better results. I am 76 years old, and I was beginning to limit my traveling and other activities due to severe knee pain. After surgery and physical therapy at Casa Colina, I am resuming many of these activities. I cannot praise him, his staff, and my physical therapist enough times!!

-Self-verified patient
Review of Dr. Corrales

Wonderful Surgeon
Dr. Corrales replaced my left knee a few months ago. It is perfect!! I had heard so many stories about the long recovery and the intense physical therapy...not the case at all! I was up and walking the evening of my surgery, WOW. The physical therapy was easy and only 6 weeks long (2 times a week). I had a few concerns about redness in the incision area and they were addressed promptly by Jeanne, Dr. Corrales's very efficient assistant. You can't ask for better care and a more skilled doctor and staff. He is the best by far!! (I've had both my hips replaced, at Kaiser....so I am quite qualified to say that Dr. Corrales is the BEST!)

-Self-verified patient
Review of Dr. Corrales


Dr. Corrales is the best at what he does. Hand down. He is very thorough in diagnosis and his surgery skills are the best. I had two total knee replacement surgeries and am very happy with the results .

-Self-verified patient
Review of Dr. Corrales

Great Doctor
Dr. Corrales did a knee replacement for me about 2 years ago. I lie in a retirement community where a large number of residents have had similar surgeries. No one has recovered as quickly and as effortless than I have. I have had no difficulty with the replacement and recommend him as my results were tremendous.

-Self-verified patient
Review of Dr. Corrales

Excellent Doctor
In 2014 I knew I needed a knee replacement. My former orthopedic surgeon referred me to Garey Orthopedic; specifically Dr Corrales. Dr Corrales made the decision I did need the knee replacement. Dr. Corrales is very thorough and made sure everything was done for the best outcome possible. I don't think it could have gone any better.

-Self-verified patient
Review of Dr. Corrales


Dr. Corrales performed a right hip total replacement in March, 2016 and I am thrilled beyond words with the results. He kept me pain free right after surgery and all thru my recovery, He is now performing total hip replacement surgery on my left hip in a month. He is an excellent surgeon, very focused, serious and concerned. Also his office assistants, Valerie and Albert were wonderful during all of this.

-Self-verified patient
Review of Dr. Corrales


Caring, thoughtful, understanding. Of course a skilled surgeon. Recommend to everyone, and a really nice guy.

-Self-verified patient
Review of Dr. Corrales


Top notch state of the art Total Knew replacement Expert!!!!!! He is absolutely amazing! Weeks ahead of recovery, owe him my utmost respect!

-Self-verified patient
Review of Dr. Corrales


I was most fortunate to find the perfect Surgeon to replace my knee. He was serious & focused. I intended to excel and earn my new knee. All preps. went smoothly. I had my surgery thanks to this gifted surgeon and his super crew. I made steady progress with rehab. Four months now, I'm so pleased with my lower blood pressure , weight loss & 2 miles a day. My husband says my "2015 L.A.C. Model" knee, has wiped the pain from my face ! Thank you Dr. C.

-Self-verified patient
Review of Dr. Corrales

An excellent orthopedic surgeon
Dr. Corrales performed surgery replacing my hip. He is a very compassionate surgeon with wonderful educational and professional experiences. His highly professional demeanor and patience was reassuring. I feel very fortunate to have had him as my surgeon and in fact, have recommend him to a friend.

-Self-verified patient
Review of Dr. Corrales

Knowledgeable and well-informed orthopedic surgeon
Caring. Knowledgeable and well-informed doctor, supported by a great staff. Look no further for a great orthopedic surgeon. I felt well taken care of, both before and after my surgery.

-Self-verified patient
Review of Dr. Corrales


I had a wonderful experience with Dr. Corrales on both my surgeries. I first had a shoulder replacement then a total hip replacement and with both surgeries Dr. Corrales was very through in explaining both procedures to me. If my family or I had any questions he and his team were there to answer them. I could not have asked for a better surgeon/doctor for my procedures.

-Self-verified patient
Review of Dr. Corrales


So thankful for Dr. Corrales. He got me the help I needed with my hip.

-Self-verified patient
Review of Dr. Corrales

Postive
At 73 years, I had surgery on right and left knee 6 months apart. I only have positive remarks to say about Dr. Luis Corrales and his staff. Great post operative care, hospital was positive experience. His recommendation for Physical Therapy had me back to work 3 months after each surgery. Iam now a year into my 1st surgery and everyday still amazed at the results. Dr. Luis Corrales is very confidence, professional and knowledge. I would recommend Dr. Luis Corrales and Gary Orthopedic to anyone

-Self-verified patient
Review of Dr. Corrales

Excellent experience
Dr. Corrales performed a full knee replacement, replacing a previous knee replacement I received in 2008 by another doctor. The experience and results of the two operations were like night and day. Dr. Corrales and his staff took great care in pre-operation preparations and took the time to answer any questions and provide me with easy to understand answers. Post-operation care is equally impressive. My knee hasn't felt this good in over 15 years. I highly recommend Dr. Corrales.

-Self-verified patient
Review of Dr. Corrales


After two "Total Knee Replacement" by Dr. Corrales, I am very satisfied with the procedures. I only have positive feedback for Dr. Corrales and his staff.

-Self-verified patient
Review of Dr. Corrales

Great Doc. Great Team.
I received a total hip replacement from Dr. Corrales and the results were flawless. Both Dr. Corrales and each member of his team were caring, professional and outstanding in the execution of their jobs. I highly recommend Dr. Corrales. I wouldn't see anyone else.

-Self-verified patient
Review of Dr Lilley

Great Doctor
Dr Lilley performed surgery on my right hand a few years back and now I am scheduled for a procedure on my left hand. Great doctor, has very good bedside manner and just an all around good guy. Would recommend him to everyone.

-Self-verified patient
Review of Dr Lilley

A Surgeon that meets your highest expectation's.
Upon first meeting with Doctor Lilly I found him to be friendly, stright forward with his diagnosis , plan to correct and what results to be expected. A Doctor at the top of his game.

-Self-verified patient
Review of Dr Lilley

This is the Doctor you want.
When my pain first appeared I called 28 doctors (seriously 28) just to get an appointment two and a half weeks later. I visited 4 different doctors, went through many different test, MRI, EMG, EKG, x-rays...etc. Even went online to try & figure this out for myself. Then I found Dr. Lilley. I called his office & by chance they had a cancellation and could schedule me the next day. I was so happy that someone really cared that I was in so much pain and could schedule me the next day. I really liked the way that he could not only figure out what was going on, but he talked to me like a friend which was very comforting. (I'm not one that always trust Doctors just because they're Doctors). He told me what was going on & how to fix it. After surgery he gave me his phone number just in case I had any guestions or needed help. I appreciated that so much because I live alone & if I got scared I had a number I could call if i needed to. After my first follow-up appointment I could not have been more pleased. He was not only "up-front" with me, but helped me find a good physical therapist to help with my recovery. I don't usually fill out surveys about anything...but I'm glad I could fill one out for Dr. Lilley. I not only trust him 100%, but would recommend him 100%. Also he has the nicest assistant Bonnie. She was always there for any question I might have in a quick & timely manner, and had a very nice manner. She was great. :) I wish I had this review when I was looking for "The Right Doctor". It would have saved me a lot of time searching online.

-Self-verified patient
Review of Dr Lilley


This Doctor was amazing with my son who is only two years old. He has a positive attitude and takes time to make sure that you are comfortable with his diagnosis. I would definitely recommend him.

-Self-verified patient
Review of Dr Lilley

Five Stars
Dr. Lilley is an excellent doctor. He performed surgey on my left hand and soon will be performing surgery on my right hand. I have heard nothing but positive comments about him from other Physicians as well as current and former patients. If your in need of hand surgery......hes your man!! Awesome doc!

-Self-verified patient
08-Apr-2023 09:58 PM

17-Sep-2021 07:41 PM

30-Jul-2021 12:22 AM

18-Jun-2021 05:33 AM