Sports Medicine
Sports injuries occur when playing indoor or outdoor sports or while exercising. They can result from accidents, inadequate training, improper use of protective devices, or insufficient stretching or warm-up exercises. The most common sports injuries are sprains and strains, fractures, and dislocations.
The most common treatment recommended for injury is rest, ice, compression, and elevation (RICE).
Rest:Avoid activities that may cause injury.
Ice:Ice packs can be applied to the injured area, which will help reduce swelling and pain. Ice should be applied over a towel on the affected area for 15-20 minutes, four times a day, for several days. Never place ice directly over the skin.
Compression:Compression of the injured area also helps reduce swelling. Elastic wraps, air casts, and splints can accomplish this.
Elevation:Elevate the injured part above your heart level to reduce swelling and pain.
Some of the measures that are followed to prevent sports-related injuries include:
Follow an exercise program to strengthen the muscles
Gradually increase your exercise level and avoid overdoing the exercise
Ensure that you wear properly-fitted protective gear, such as elbow guards, eye gear, facemasks, mouth guards and pads, comfortable clothes, and athletic shoes before playing any sports activity, which will help reduce the chances of injury
Make sure that you follow warm-up and cool-down exercises before and after the sports activity. Exercises will help stretch muscles, increase flexibility, and reduce soft tissue injuries
Avoid exercising immediately after eating a large meal
Maintain a healthy diet, which will nourish the muscles
Avoid playing when you are injured or tired. Take a break for some time after playing
Learn all the rules of the game you are participating in
Ensure that you are physically fit to play the sport
Some of the common sports injuries include :
Foot and ankle injuries include the injuries in the leg below the knee, and they are common in athletes and while playing sports, such as football, hockey, and skating. Common sports injuries to the foot and ankle include sprains and strains, ankle fractures, and Achilles tendinitis. Treatment for these conditions may include orthotics, braces, physical therapy, injections, or surgery.
What is an Achilles Tendon Rupture?
The Achilles tendon is a strong, fibrous cord present behind the ankle that connects the calf muscles to the heel bone. It is used when you walk, run, and jump. The Achilles tendon ruptures most often in athletes participating in sports that involve running, pivoting, and jumping. Recreational sports that may cause Achilles rupture include tennis, football, basketball, and gymnastics.
What are the Symptoms of Achilles Tendon Rupture?
When the Achilles tendon ruptures, you will experience severe pain in the back of your leg above your heel, swelling, stiffness, and difficulty standing on tiptoe and moving the leg when walking. A popping or snapping sound may be heard when the injury occurs.
How is an Achilles Tendon Rupture Diagnosed?
Your doctor diagnoses the rupture based on symptoms, history of the injury, and physical examination. Your doctor may also feel a gap or depression in the tendon, just above the heel bone. Your doctor will gently squeeze the calf muscles. If the Achilles tendon is intact, there will be flexion movement of the foot, if it is ruptured, there will be no movement observed.
What is the Treatment for an Achilles Tendon Rupture?
Achilles tendon rupture is treated using non-surgical methods or surgery. Non-surgical treatment involves wearing a cast or special brace which lifts your heel, allowing the tendon to heal. Surgical procedure involves opening the skin and suturing the torn tendon together. Surgery helps to decrease the recurrence of the rupture of the Achilles tendon in comparison to the non-surgical treatment. With either treatment, physical therapy is recommended to improve the strength and flexibility of the leg muscles and the Achilles tendon.
How do you Prevent an Achilles Tendon Rupture?
To help prevent an Achilles tendon injury, it is a good practice to perform stretching and warm-up exercises before participating in any exercises or sports activities. Gradually increase the intensity and length of time of the activity. Muscle conditioning may help to strengthen the muscles in the body.
What are Shin Splints?
Shin splints or medial tibial stress syndrome (MTSS) is pain around the tibia or shinbone due to inflammation of the tendons, muscles, and bone tissue. It occurs because of vigorous physical activity, such as with exercise or sports.
What Causes Shin Splints?
Common causes of shin splints are overuse from repetitive sports activities or a sudden change in the level of physical activity. Flat feet or rigid foot arches and the use of inappropriate or worn-out footwear while exercising may increase your risk of developing shin splints. Runners, military recruits, and dancers are at a higher risk of developing shin splints.
What are the Symptoms of Shin Splints?
Common symptoms include pain in the front side of the lower leg, which can be sharp or dull, throbbing, or sore to the touch. Pain may also be associated with mild swelling.
How are Shin Splints diagnosed?
Your doctor will diagnose the condition through physical examination of the lower leg and may order imaging tests to rule out other problems.
What are the Treatment Options for Shin Splints?
Treatment for shin splints consists of non-surgical procedures including:
Rest: Ensure that you take adequate rest and avoid activities that cause pain. You can instead perform low-impact exercises such as swimming or stationary bicycling.
Medication: Your doctor may prescribe non-steroidal anti-inflammatory medication to reduce pain and swelling.
Ice: Apply ice packs wrapped in a cloth on the affected area for 15-20 minutes, four times a day for several days. Never place ice directly over the skin.
Compression: Wrap your leg in an elastic bandage to reduce swelling.
Flexibility exercises: Perform stretching exercises to reduce pain and improve muscle strength.
Supportive shoes: Wear shoes that provide good cushioning and support the feet as they help reduce stress on the shinbone.
Orthotics: Shoe inserts may be helpful.
Surgical treatment is an option considered only in very severe cases when conservative methods fail to relieve the pain.
How can you Prevent Shin Splints?
Shin splints can be prevented by following these measures:
Wear well-fitting athletic shoes with good support.
Warm up and stretch the leg muscles before starting any vigorous activities.
Start any new activity slowly and progress gradually by increasing the duration and frequency of the exercise regimen.
Severe pain in your shoulders while playing your favorite sport, such as tennis, basketball, and gymnastics may be caused by a torn ligament or dislocation of the shoulder bone. This may result from overuse of your shoulder while playing sports. Simple pain or acute injuries may be treated with conservative treatment, while chronic injuries may require surgical treatment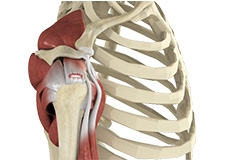 Rotator Cuff Tear
Rotator cuff is the group of tendons in the shoulder joint providing support and enabling wider range of motion. Major injury to these tendons may result in tear of these tendons and the condition is called as rotator cuff tear. It is one of the most common causes of shoulder pain in middle aged adults and older individuals.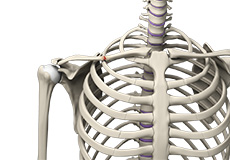 Clavicle Fracture
Clavicle fracture, also called broken collarbone, is a very common sports injury seen in people who are involved in contact sports such as football and martial arts as well as impact sports such as motor racing. A direct blow over the shoulder that may occur during a fall on an outstretched arm or a motor vehicle accident may cause the clavicle bone to break.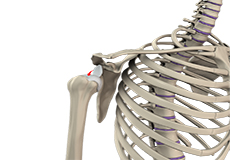 Shoulder Dislocation
Playing more overhead sports and repeated use of the shoulder at the workplace may lead to sliding of the upper arm bone, the ball portion, from the glenoid–the socket portion of the shoulder. The dislocation might be a partial dislocation (subluxation) or a complete dislocation causing pain and shoulder joint instability. Shoulder joint often dislocates in the forward direction (anterior instability) and it may also dislocate in the backward or downward direction.
Fractures of the femur bone, labral tear, and hip dislocation are some of the common sports injuries affecting the hip. The hip joint bears more weight and is more susceptible for injuries while playing sports. Hip injuries require immediate medical intervention to avoid further complications. Rehabilitation programs and physical therapy is often recommended following medical intervention, where you need to perform certain exercises to strengthen your muscles and improve movements.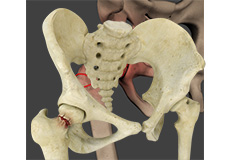 Hip Fracture
The hip joint is a "ball and socket" joint. The "ball" is the head of the femur or thighbone, and the "socket" is the cup shaped acetabulum. The joint surface is covered by a smooth articular surface that allows pain free movement in the joint.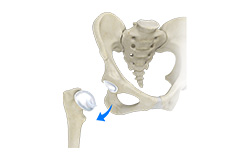 Hip Dislocation
The hip joint is a ball and socket joint. The "ball" is the head of the femur or thighbone, and the "socket" is the cup shaped acetabulum. The joint is surrounded by muscles, ligaments, and tendons that support and hold the bones of the joint in place. Hip dislocation occurs when the head of the femur moves out of the socket. The femoral head can dislocate either backward (posterior dislocation) or forward (anterior dislocation).
The anterior cruciate ligament (ACL) is a major stabilizing ligament in the knee, which may tear with overuse while playing sports. The ACL has poor ability to heal and may cause instability. Other common sports injuries in the knee include cartilage damage and meniscal tear. Knee injuries during sports may require surgical intervention, which can be performed using open surgical or a minimally invasive technique. Your surgeon will recommend physical therapy to strengthen your muscles and improve elasticity and movement of the bones and joints.
What is an Articular Cartilage Defect?
Articular or hyaline cartilage is the tissue lining the surface of the two bones in the knee joint. Cartilage helps the bones move smoothly against each other and can withstand the weight of the body during activities, such as running and jumping. Articular cartilage does not have a direct blood supply to it, so has less capacity to repair itself. Once the cartilage is torn, it will not heal easily and can lead to degeneration of the articular surface leading to development of osteoarthritis.
Causes of Articular Cartilage Defects
The damage in articular cartilage can affect people of all ages. It can be damaged by trauma, such as accidents; mechanical injury, such as a fall; or from degenerative joint disease (osteoarthritis) occurring in older people.
Symptoms of Articular Cartilage Defects
Patients with articular cartilage damage experience symptoms, such as joint pain, swelling, stiffness, and a decrease in range of motion of the knee. Damaged cartilage needs to be replaced with healthy cartilage and the procedure is known as cartilage replacement. It is a surgical procedure performed to replace the worn-out cartilage and is usually performed to treat patients with small areas of cartilage damage usually caused by sports or traumatic injuries. It is not indicated for those patients who have advanced arthritis of the knee.
Treatment of Articular Cartilage Defects
Cartilage replacement helps relieve pain, restore normal function, and can delay or prevent the onset of arthritis. The goal of cartilage replacement procedures is to stimulate growth of new hyaline cartilage. Various arthroscopic procedures involved in cartilage replacement include:
Microfracture
Drilling
Abrasion Arthroplasty
Autologous chondrocyte implantation (ACI)
Osteochondral Autograft Transplantation
Sports injuries are the injuries that most commonly occur during sports and exercises. These injuries may result from accidents, poor training practices, and use of improper protective gear, lack of conditioning, and insufficient warm up and stretching. The sports injuries may be either acute (sprains, fractures, tears) or chronic (tendinitis, overuse injury) injuries.
Hand, Wrist and Elbow Injuries
Some of the common sports injuries that may affect the hands and wrists include finger fracture, mallet finger, jammed finger, wrist sprains, tendinitis of the wrist, and Colles wrist fracture. Tennis elbow and Golfer's elbow are the sports injuries involving the elbow joint.
Sports Injury Management
When you suffer an injury during sports events, never try to continue the activity in pain because it may cause further harm. Some injuries may require prompt attention by a doctor, while others can be treated at home.
You should seek medical treatment if:
The injury is causing severe pain, swelling, or numbness
You are not able to put any weight on the injured area
The pain or dull ache of an old injury has increased along with swelling and joint instability
If you do not have any of the symptoms mentioned above, you can adopt self–care treatment at home. You should follow the RICE method immediately after injury to relieve pain and inflammation. These steps should continue for at least 48 hours.
Rest: You should take rest from regular exercises or daily activities as needed.
Ice: Apply an ice pack over the injured area for 20 minutes at a time. This should be done four to eight times a day. A cold pack, ice bag, or plastic bag filled with crushed ice and wrapped in a towel can be used.
Compression: Compress the injured area with elastic wraps, special boots, air casts, and splints. This helps to reduce swelling.
Elevation: Keep the injured elbow or wrist elevated on a pillow above the level of the heart. This is to help decrease swelling.
Your doctor may recommend other treatments to help your injury heal. These include:
Nonsteroidal Anti-Inflammatory Drugs
Nonsteroidal anti-inflammatory drugs (NSAID), such as aspirin, ibuprofen, ketoprofen, or naproxen sodium reduce swelling and pain.
Immobilization
Immobilization involves reducing movement of the injured area to prevent further damage. It also reduces pain, swelling, and muscle spasm. Slings are given to immobilize the arms and shoulders.
Surgery
Surgery may be necessary to repair torn tendons and ligaments or to realign the broken bones.
Rehabilitation
Rehabilitation involves exercises that get the injured area back to normal condition. Exercises start with gentle range-of-motion exercises followed by stretching and strengthening exercises.
Other Therapies
Other common therapies that help in the healing of sports injuries include mild electrical currents (electrostimulation), cold packs or cryotherapy, heat packs or thermotherapy, high-frequency sound waves (ultrasound), massage, and platelet rich plasma (PRP) injections.
What are Sprains and Strains?
Sprains and strains are injuries affecting the muscles and ligaments. A sprain is an injury or tear of one or more ligaments that commonly occurs at the wrist, knee, ankle, or thumb. A strain is an injury or tear to the muscle. Strains occur commonly in the back and legs.
Causes of Sprains and Strains
Sprains and strains occur due to overstretching of the joints during sports activities and accidents, such as falls or collisions. It may be due to fatigue or not warming up before an activity.
Symptoms of Sprains and Strains
Symptoms of sprains include:
Pain
Swelling
Tenderness
Bruising
Joint stiffness
Symptoms of strains include:
Muscle spasm and weakness
Pain in the affected area
swelling
Redness
bruising
Immediate Care for Sprains and Strains
Immediately following an injury and before being evaluated by your doctor, you should initiate the P.R.I.C.E. method of treatment.
Protection: Protect the injured area with the help of a support.
Rest:Rest the affected area as more damage could result from putting pressure on the injury.
Ice:Ice should be applied over a towel to the affected area for 15-20 minutes every two to three hours during the day. Never place ice directly over the skin.
Compression:Wrapping with an elastic bandage or an elasticated tubular bandage can help to minimize the swelling and provide support to the injured area.
Elevation:Elevating the injured area above heart level will also help with swelling and pain.
Diagnosis of Sprains and Strains
Diagnosis involves a thorough physical examination. Your doctor will inspect the area of injury and see how well you move the muscle or joint. X-rays or other tests may be ordered to rule out fractures or other problems.
Treatment of Sprains and Strains
Your doctor may prescribe nonsteroidal anti-inflammatory drugs to reduce the pain and inflammation of a sprain or strain. A period of bracing may be necessary. Physiotherapy may be recommended for moderate to severe injuries. Surgery is rarely needed but may be suggested for torn ligaments and tendons.
Most sprains and strains show significant improvement in about 2 weeks. Severe injuries sometimes take months to heal. Strenuous activity should be avoided for at least 8 weeks to allow proper healing.